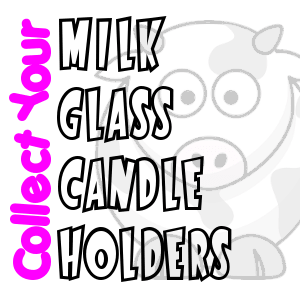 Just because they are made of milk glass, don't expect these candle holders to come in white only. You can also find them in black, blue, brown, pink, and yellow amongst other colors.
The opaque or translucent glasses first appeared in 16th century Venice. The most common milky white opaque type was known as "opal glass" before the "milk glass" name became popular.
Quite many people collect milk glass products. Perhaps you too would like to add a candle holder or two from below to your collection?
#1

Biedermann & Sons Milk Glass Lighthouse Scene Votive Candleholders Set of 3 2.18 by 2-1/2-Inch
#2

Vintage Pair Westmoreland "Paneled Grapes" Milk Glass Octagonal Candle Holder Sticks
#3

Mulberry Frost Scented Candle – hand poured soy candle in vintage milk glass goblet
#4

Vintage Fenton Hobnail Milk Glass Multi Candle Holder 6 1/2" X 3 1/2"