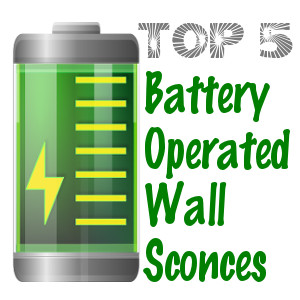 When you want to enhance the ambiance of, say, the living room, adding a pair of wall sconces is an easy way to do it. But don't you hate installing all the wiring? They tend to look ugly too when you don't hide them.
That's where the battery powered ones came in handy. No wiring, no mess.
The 5 I found below will get you started in no time.
#1

Exciting Lighting DS8000 Battery Powered White Faux Lace LED Wall Sconce White
#2

Rite Lite LPL780C Battery-Operated 9-LED Classic Chrome Wall Sconce
#3

It's Exciting Lighting 002464 Battery Powered Burlwood Style Indoor/Outdoor Wall Sconce
#4

Exciting Lighting EZ5110 Battery Powered Fluted LED Wall Sconce with Interlocking Twine and Remote Control Cream and Brown
#5

MAXSA Innovations 43319 Black Battery-Powered Motion-Activated LED Wall Sconce